Monthly action and performance
reports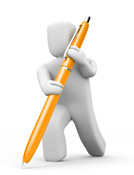 Every month I will provide you with two reports….
1. Account action report – which shows all the actions performed on your account, such as keyword management, advert management, bid changing, account changes, etc
2. Performance report – taken from Google Analytics so we can see the impact PPC is having
… of course all clients are encouraged to contact me at any time whenever they require anything or even just have a question / thoughts on anything related to online marketing, as I truly love helping people and businesses with internet marketing.