Affiliate & Reseller
Scheme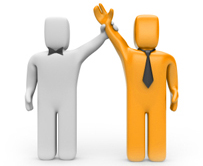 I offer two types of referral scheme which are...
Affiliate scheme
Free to join and enjoy a 5% recurring commission on all payments made from anyone you refer to my website. Paid monthly either directly into your UK bank account or into your PayPal account. A great way to build up a nice monthly income.
Free White Label Reseller Account
This account is for businesses that wish to provide SEO to their clients under their own brand whilst I do all the work, completely hidden in the background.
The top 10 benefits of my white label reseller account:
1. Free to join
2. Free training on every aspect of running a successful PPC business from dealing with clients, gaining business, closing leads, what to ask clients, what the reports I send mean etc. I make the whole process very simple, to your clients you'll be the PPC expect backed by me at all times.
3. Only pay for what you need. Just as I do with my own corporate clients, I don't tie my resellers into any contracts so you can pick up an account and drop it whenever you require giving you total flexibility.
4. Great discounts on all packages and the option to customise your own packages to meet your own requirements.
5. Offer your clients your own branded free PPC health check to help close sales. My free health check is very in-depth and full of really useful information for your potential client. Unlike many of my competitors that just use a useless "review" as a lead generation scam, my health check report contain highly valuable information tailor made for the client. So, whilst your competitors are still taking to them about how they should just take a leap of faith because they are great etc, your potential client knows everything before they take out the service so the sale closes itself. Simply ask "we've got this far, would you like to continue ?". This is why I'm so laid back with my own sales leads because high quality honest ethical PPC services focused on always helping the client truly shine above the rest of the PPC services out there.
6. Everything branded in your own branding. Simply send me your logo, business name, website address and telephone number and this will appear on all reports.
7. Full unlimited support, training on current strategies and up and coming strategies. I share everything I know with my resellers to help their PPC business explode.
8. Enjoy monthly recurring income for the life time of the client.
9. A good percentage of clients will naturally increase their package size once they see the results you provide them, resulting in long term happy client relationships and increasing income from your existing client base.
10. Also help them with SEO if you like via my SEO reseller scheme.
To join my reseller scheme or ask any questions then please contact me – I look forward to growing our businesses together.